Glaze chemistry class (understanding glaze recipes)
Regular price

$184.06 USD

Regular price

Sale price

$184.06 USD

Unit price

per
Have you ever wanted to experiment with making your own glazes but are intimidated by glaze recipes? This class will give you an introduction to glaze chemistry, an overview of the way glaze recipes are typically formulated and a way to evaluate good recipes that you can try by yourself. At the end of the class you will be able to confidently evaluate glaze recipes (in books or on Glazy) and you will be able to create a glaze test with a different quantity of colorant. 
Goal: understand the process of mixing a glaze from a recipe and evaluating the composition of a recipe from a chemistry perspective, so that you can make and manipulate stable and durable glazes.
The class consists of 2 sessions - due to the nature of the class, it will not be possible to reschedule the second session if you cannot make it.
Who is this class for?
This class is for everyone who is interested in getting to know glaze chemistry. Please note that we will not be covering glazing techniques or making. 
The class is in English. 
Course outline
During the first session we will cover the basics of glaze chemistry, including: the components of a glaze, introduction into the UMF formula and Stull map and a tour of Glazy. We will then show you how to properly mix a glaze using our raw materials. You will make a simple line test experimenting with various levels of colorant in your glaze, and apply your glaze to the test tiles.
During the second session (two weeks after the first one) we will go over the results together and discuss any questions.
Further information
You will be asked to submit 3 recipe options from Glazy before the class so that we can approve one. 7 days before the class, we will send you a short email with instructions on how to find recipes on Glazy.

We will be providing test tiles for participants made from our white/creme stoneware clay (3 per person). You can also bring your own test tiles, especially if you work with a specific clay body, provided they fit our firing temperature of 1240C. If you bring your own test tiles, we will ask you to show proof that they can sustain the firing temperature (photo of packaging). No exceptions can be made. If you cannot show us the packaging, we will not fire them. Please don't bring full pieces - only test tiles.
A handout will be provided with the class. You will be able to keep the glaze you mixed. 
Classes will be held in a relaxed setting, with a max. of 6 participants per class.
Please bring your own apron. You can also purchase one at our shop. Gloves are provided. Due to the nature of the class, an FFP2 mask is required while mixing the glaze (masks are optional during the theoretical/discussion part).
Cancellation policy:
Classes are non-refundable but you can rebook to a future class, provided you give at least 7 days notice. No exceptions can be made.
Share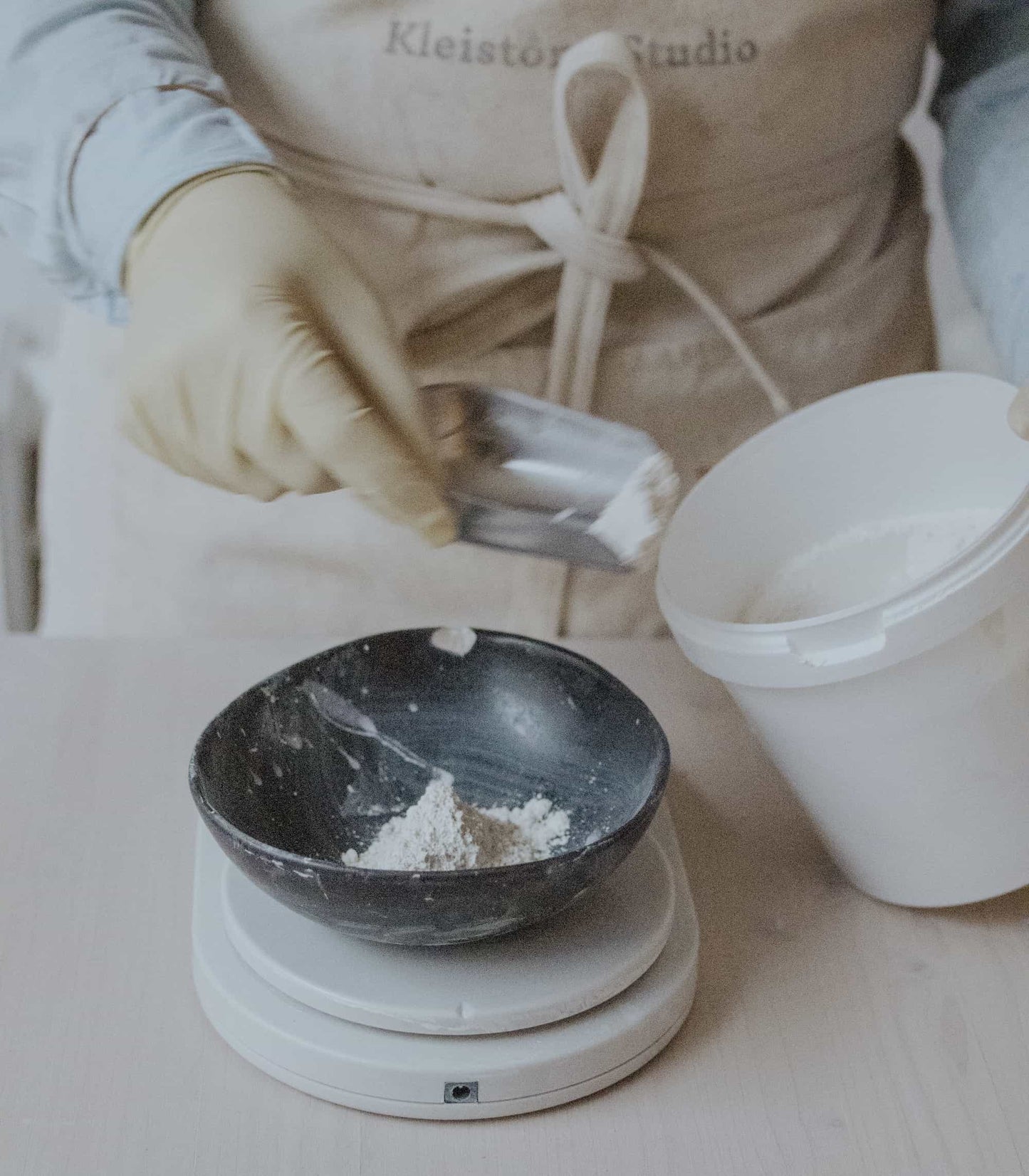 Cancellation policies
By booking a class or open studio session you agree with the following policies.
- Classes are non-refundable but you can rebook to a future class, provided you give at least 7 days notice from the class date, in writing. This means that you will be issued a voucher that you can use to book a future class. We cannot make any exceptions.
- You are allowed to transfer the class to someone else if you can't make it, but that still means the above policy would apply. Open studio sessions are not transferable.
- Our studio is for adults. We allow for children from the age of 14 if accompanied by an adult. Both would need to book a spot separately. 
- In case the event cannot take place, we will reschedule it and you will be issued a voucher to use again.