Kleistone Signature Intensive Ceramic Class (4 Weeks)
Regular price

€268,91 EUR

Regular price

Sale price

€268,91 EUR

Unit price

per
Come and join us in an intense class over four sessions exploring the extended process of ceramic hand-building, as well as decoration techniques, design considerations and glazing.
Session 1: you will have an introduction to clay as well as learning pinching and slab building techniques to make your first pieces.
Session 2: You will learn coil building and making ceramics from forms. You will then learn decoration techniques using engobes including sgraffito and inlay. 
Session 3: You will gain an introduction to using pencils and transfers to add decoration to your pieces. You will then be able to work on a personal project, using the techniques from weeks 1 & 2. You are welcome to bring a mood board for this to help inspire you. 
Session 4: (2 weeks after session 3) We will finish off the pieces with glazes and overglazes. Learn how to glaze your pieces using dipping, pouring and brushing techniques. You will then be able to add patterns and decorations with colourful overglazes. 
In this class you will be able to experience the whole pottery process, in depth from start to finish. Let it be the start of your journey into pottery.

Who is this class for?
This course is perfect for complete beginners, or those who want to develop their skills. Thank you for your understanding that our classes are only open to adults. 
Course Outline
4 x 2.5 hour guided sessions (3 x hand-building & 1 x glazing)

Possibility to make 5-6 pieces of your choice over the duration

Access to all materials, tools & firings

Taking a class at Kleistone Studio will give you the chance to use our studio during open studio sessions (subject to booking and payment separately)
Location: Kleistone Studio in Kreuzberg. 
Teacher / language: 

The class will be taught in english. 
Week 1: 7th September – 18:30 - 21:00 
Week 2: 14th September – 18:30 - 21:00 
Week 3: 21st September – 18:30 - 21:00 
Week 4: 5th October – 18:30 - 21:00 
Further information
In this workshop, you will be shown four different hand-building techniques; pinching, coiling, slab building and forms. These techniques are the fundamentals of hand-built pottery and can be used alone or combined to make all kinds of shapes, forms and objects. 
During this class you are welcome to play and experiment, making any object/s you like. Due to the limited class size of 6 people, you will have plenty of 1-on-1 time for questions and support. 
At the end you will get to glaze your pieces using the studio glazes and overglazes. After this, your pottery will be fired and ready to collect in about 3-4 weeks. We will notify you via email when the pieces are ready for collection.
Please bring your own apron. You can also purchase one at our shop. 
Please note that we can only keep pieces 2 months after you have been notified.
NOTE: We understand that life gets in the way and that you may miss one of the four classes. However we cannot accommodate or allow you to make up a class later or swap classes. We cannot make exceptions. It is your responsibility to ensure you can make the classes. It's completely OK to miss a class, and we will do what we can to ensure that you are caught up on anything important you may have missed. 
Cancellation policy:
Classes are non-refundable but you can rebook to a future class, provided you give at least 7 days notice.
Share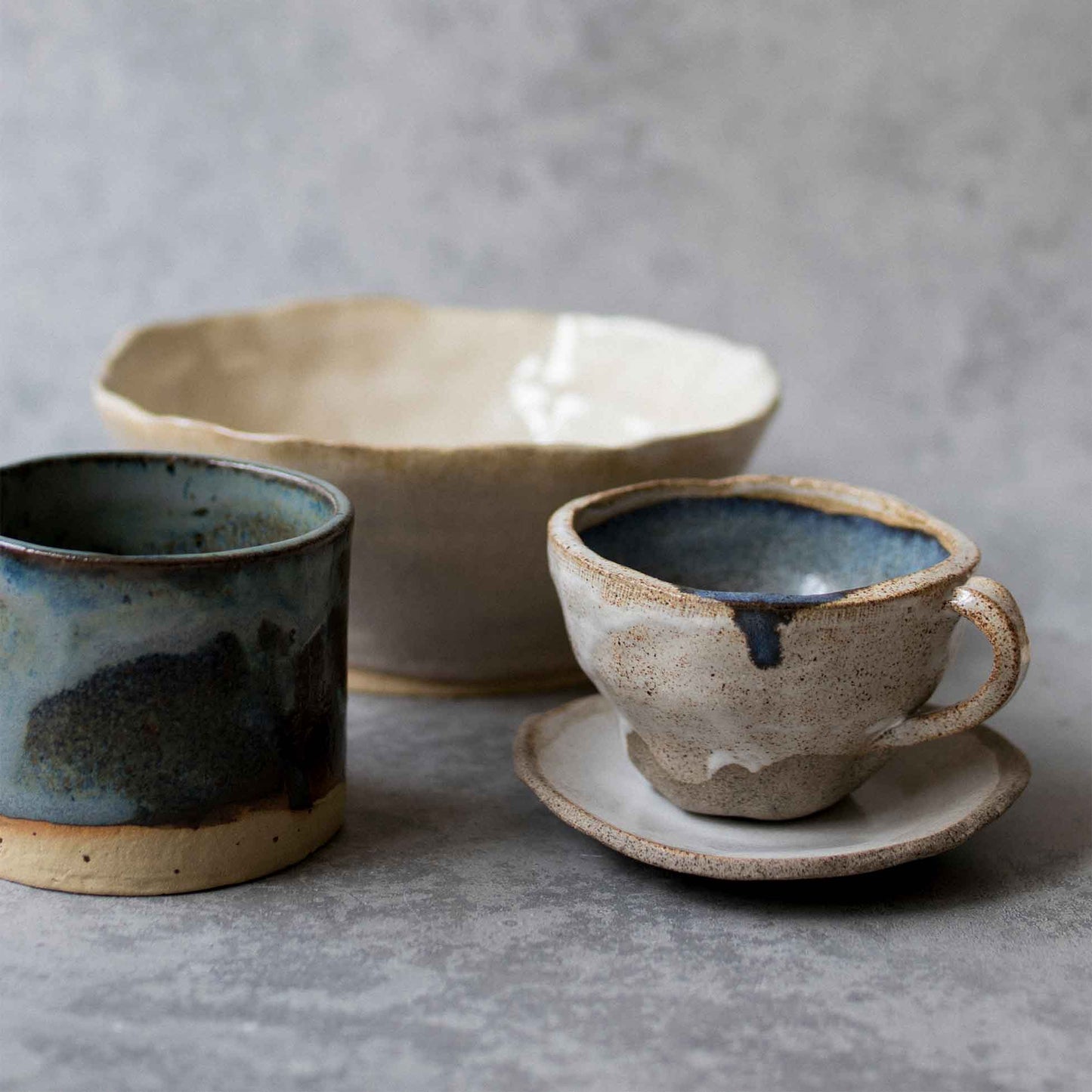 Cancellation policies
By booking a class or open studio session you agree with the following policies.
- Classes are non-refundable but you can rebook to a future class, provided you give at least 7 days notice from the class date, in writing. This means that you will be issued a voucher that you can use to book a future class. We cannot make any exceptions.
- You are allowed to transfer the class to someone else if you can't make it, but that still means the above policy would apply.
- Our studio is for adults. We allow for children from the age of 14 if accompanied by an adult. Both would need to book a spot separately. 
- In case the event cannot take place, we will reschedule it and you will be issued a voucher to use again.